Out with the Old, in with the New
As we bid farewell to 2021 and say hello to 2022, we'd like you to know that it has been our privilege having to assist you with our babysitting services. We've also enjoyed creating content, sharing our journey with you through our social media, website and emails. We would not be where we are today without you. We are truly grateful for your never-ending support and we hope to continue our mission by providing you with the best childcare services.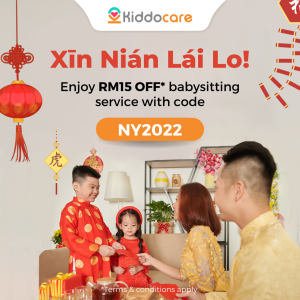 As a way of expressing our gratitude, we have curated this New Year Sale just for you! Enjoy RM15 OFF* off our babysitting service! Just use code NY2022 when you book our service of 4 hours and above!
Starting to tick off your bucket list? Watching The King's Man in the cinemas? Shopping for new year sales?
Book our service and get your discount today! 😉
Get My Discount
How this works:
1. Go to booking.kiddocare.my
2. Register or Log In with your email address.
3. Book your service of 4 hours and above.
5. Enter the code NY2022 in the 'Discount Code' field upon checkout.
Terms & Conditions:
1) This promotion is only valid for booked sessions of 4 hours and above.
2) This promotion entitles you to an Rm15 discount from the hourly charge for each session booked in a single booking. For example, if you book one session you will get an RM15 discount, and if you book 4 sessions you will get RM15 off for each session totaling to RM60 and so on.
3) This promotion cannot be used in conjunction with other promotions or discounts codes.
4) This promotion cannot be used on public holidays.
5) This promotion is valid from 1st January until 31st January 2022.
6) Other terms and conditions, as well as surcharges still apply.
7) These terms and conditions may be subject to change without prior notice. All updated terms and conditions shall be available at our website.
8) By using this promotional code you hereby agree to abide by these terms and conditions.
9) To redeem this promotion, enter the code NY2022 in the discount code field when making your booking.
10) There is no limit of redemption for this promotion – you can use it as many times as you want.
11) Happy new year, and thank you for choosing Kiddocare.