Horaaa Hooray!
Mak Ayah Boleh Bawak Anak-Anak Tonton Didi & Friends The Movie di Pawagam Cuti Ini!
Hooooraaaaa! Hoooooray! Cuti sekolah kembali lagi! Anak-anak semua mesti dah tak sabar nak sambut cuti sekolah yang lama ni kan. Setiap hari mereka mesti bangun rasa penuh gembira ingin buat sesuatu yang boleh menceriakan mereka. 
Tapi mak ayah semua tahu tak yang filem Didi & Friends baharu sahaja ditayangkan di seluruh pawagam Malaysia? Kita semua yakin, sebut je Didi & Friends, mesti anak-anak semua tahu. Didi, Nana, Jojo, semuanya comel-comel lah. 
Kita boleh jamin yang anak-anak mak ayah semua mesti tak sabar nak tonton filem ini. Dah la cuti sekolah, Didi & Friends pun sedang tayang di pawagam. Macam orang negara barat selalu berkata, 'This day couldn't get any better'. 
Yang paling best, bukan je anak-anak akan seronok tonton Didi dan kawan-kawannya mengembara, tetapi mak ayah pun akan terhibur dengan gelagat mereka semua.
Sebelum tu, kita nak beritahu yang kita sudah pun menonton filem ini sewaktu tayangan Mega Fans Screening yang diadakan di TGV 1 Utama pada hari Selasa yang lalu, 21 Februari 2023.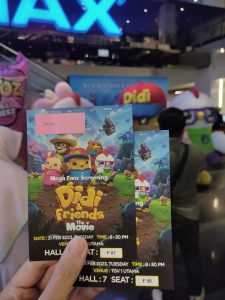 Ini sebab-sebab kenapa Didi & Friends The Movie perlu ditonton oleh seisi keluarga di pawagam:-
Didi & Friends Nyanyi Dengan Sedap Sekali
Kalau mak ayah semua nak tahu, filem ini ialah filem animasi Malaysia pertama yang bekerjasama dengan Malaysian Philharmonic Orchestra (MPO) dan Dewan Filharmonik Petronas (DFP) dalam menggubah lagu dan muzik latar orkestra filem ini. 
Lagu-lagu seperti Hora Horey, Manet dan Percaya merupakan antara lagu yang telah dirakam bersama dengan MPO dan DFP dan percayalah kalau kita cakap lagu ini semua akan membuatkan anak-anak mak ayah berjoget dan menyanyi bersama anak-anak lain di dalam panggung wayang. 
Alunan muzik yang dibawa amat sesuai untuk mereka. Ianya sedap dan mudah didengar dan tiada alunan yang terasa bingit. Liriknya juga mudah untuk diikuti dan jangan terkejut sekiranya pada akhir filem ini, anak-anak mak ayah menyanyikan lagu ini di kereta sewaktu balik ke rumah.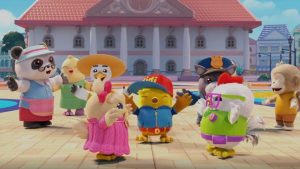 Visual Yang Sangat Cantik
Cantik sungguh ye visual filem ini. Malah, visual dalam filem ini merupakan visual yang paling cantik anak-anak mak ayah akan nampak sepanjang tonton kesemua episod dan siri Didi & Friends.
Dengan bajet RM 6 juta, Warnakala Studios dan Digital Durian mempamerkan visual, warna dan tekstur yang lain dari yang lain sehinggakan penonton boleh nampak berkilatnya bulu-bulu Didi sepanjang filem ini. Mereka menambahkan efek realism untuk memberikan kepuasan kepada mak ayah yang menonton.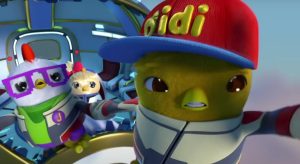 Comel dan Kelakar Sampai Hilang Stres
Serius kami tak tipu. Karakter-karakter dalam filem ini ramai yang comel-comel belaka. Hanya dengan percakapan mereka, boleh buatkan penonton rasa terhibur. 
Bukan itu sahaja, karakter seperti Pak Atan dan Pak Beruang sangat kelakar ya, mak ayah. Seisi keluarga boleh gelak ketawa melihat kerenah mereka berinteraksi antara satu dengan yang lain. Terdapat pelbagai gelagat yang boleh anak-anak lihat dari awal sehingga tamat filem. Keluar je dari pawagam, kami jamin anak-anak akan bercerita dan mengingat kembali babak-babak yang lucu.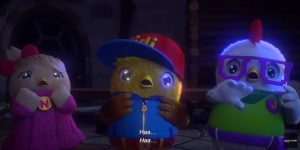 Nilai Murni: Kekeluargaan dan Persahabatan
Bukan Didi & Friends la kalau tiada pengajaran untuk anak-anak, kan? Filem ini mempunyai pelbagai pengajaran tetapi kami tertarik dengan dua elemen iaitu kekeluargaan dan persahabatan. 
Elemen kekeluargaan disuntik pada pengakhiran filem ini dimana terdapat karakter yang amat menyayangi keluarganya sehingga sanggup berbuat apa jua demi kebahagian anaknya. 
Elemen persahabatan pula terdapat pada keseluruhan filem ini. Hubungan antara Didi, Nana dan Jojo sangat akrab dan mereka sentiasa tolong menolong dan bekerjasama dalam menyelesaikan sesuatu masalah. 
Yang penting, anak-anak mak ayah akan belajar sesuatu selesai menonton filem ini.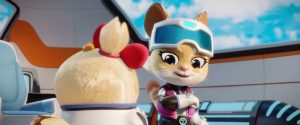 Jadi, cuti sekolah ni, mak ayah boleh bawa anak-anak ke pawagam. Mak ayah juga boleh membuat booking di Kiddocare app dan pengasuh kami boleh menjaga anak-anak mak ayah di pawagam. Enjoy!
Ditulis oleh:
Ian Firdaus