Anak Menangis Tak Nak Pergi Sekolah? Pujuk Mereka dengan Cara Ini!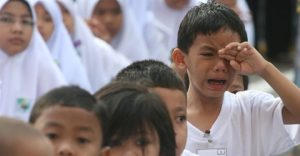 "Sakit perut lah ibu. Tak nak pergi school"
"Rasa penat lah. Boleh tak, tak nak pergi sekolah?"
And the list goes on… Begitulah lumrah ibu bapa yang membesarkan anak-anak yang bersekolah. Bermacam-macam alasan yang mereka cipta, asalkan tak perlu ke sekolah. Anda sebagai ibu bapa, mesti relate kan dan pernah ada pengalaman macam ni masa kecil? Tapi, bila anda dah dewasa dan ada anak sendiri yang lalui situsi yang sama, anda pun tak tahu apa punca-punca yang menyebabkan mereka ni tak mahu ke sekolah. 
Menurut Pakar Psikiatri Kanak-kanak dan Remaja, Dr. Norharlina Bahar, antara sebab utama yang menyebabkan kanak-kanak tak mahu ke sekolah adalah: 
Untuk mengelakkan emosi tertentu seperti

anxiety

, takut dan risau

Untuk mengelakkan situasi tertentu seperti peperiksaan, persembahan, sukan

Untuk mendapatkan perhatian terutamanya kanak-kanak yang mempunyai

separation anxiety

(perasaan takut untuk berpisah dengan ibu bapa) 

Untuk melakukan aktiviti tertentu seperti menonton televisyen, bermain permainan dan sebagainya
Sebagai ibu bapa, anda mesti nak lihat anak-anak berjaya dalam pelajaran. Oleh itu, jom tangani masalah anak anda dengan lakukan beberapa perkara.Kalau anda tak tahu apa cara nya, jom lihat cara-cara yang boleh anda lakukan seperti di bawah!
Tarik minat anak untuk belajar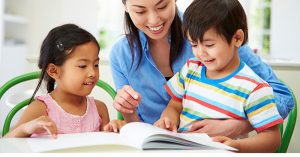 Ibu bapa lah pemacu kepada kejayaan anak-anak. Oleh itu, jangan biarkan anak anda terus hanyut dengan perasaan mereka. Pujuk mereka dan berikan galakan dengan tarik minat mereka untuk pergi ke sekolah dengan tujuan untuk belajar. Anda boleh tarik minat mereka untuk belajar melalui pelbagai cara seperti selalu membaca buku bersama mereka, ceritakan apa kepentingan pergi ke sekolah, serta berikan anak anda gambaran atau situasi di sekolah yang boleh mendatangkan rasa teruja pada mereka untuk ke sekolah. 
Dengan adanya usaha yang sebegini, anak anda akan berasa tak sabar untuk ke sekolah untuk belajar bersama kawan-kawan, semangat belajar untuk kejar cita-cita mereka serta mencipta kenangan zaman kecil mereka di alam persekolahan.
Prihatin dengan emosi mereka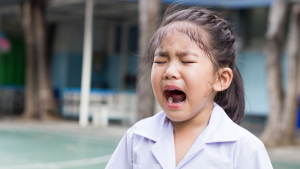 Mesti buntu dan tak tahu nak pujuk macam mana lagi kan setiap kali anak anda menangis tak mahu ke sekolah? Tenang…memang normal kalau anak-anak menangis pada permulaan persekolahan. Tapi, jangan pula kita paksa mereka untuk berhenti menangis. Takut nanti, makin lama pula mereka menangis. Apa kata, anda pujuk mereka dengan mengatakan anda faham kenapa mereka menangis. Anda cerita juga kisah anda masa kecil menangis hendak ke sekolah jika ada. Perhatian anak anda mungkin teralih dan lebih berminat nak tahu kisah anda pula. 
Selain itu, beri mereka tempoh bertenang. Biarkan sahaja mereka menangis untuk seketika. Bila mereka dah puas menangis, anda pujuklah mereka. Berikan mereka sokongan sebagai tanda anda prihatin terhadap emosi mereka. 
Ambil tahu punca dan sebabnya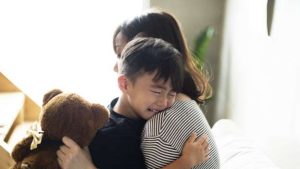 "Ibu, ayah…tak nak pergi school…"
Bila anak-anak mula merengek macam ni, ibu ayah mula tak keruan. Kesian, tapi kena juga hantar mereka ke sekolah. Bila situasi macam ni muncul, anda mesti tertanya-tanya apakah punca mereka tak mahu ke sekolah. Sebaiknya, bertanya lah pada mereka apakah sebabnya. Mungkin mereka mengantuk dan tak mahu bangun pagi, takut dengan cikgu, kena buli dengan kawan atau tak ada kawan. Pada awalnya, mungkin mereka enggan berkongsi sebabnya. Tapi jika kena cara pendekatan anda, mereka pasti akan berkongsi dengan anda. Jika situasi begini kerap berlaku, anda sebagai ibu bapa perlu 'siasat' puncanya sebelum perkara tersebut menjadi lebih teruk. 
Cari jalan penyelesaian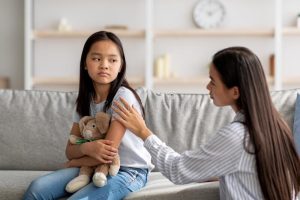 Anda mesti mahukan yang terbaik untuk anak anda. Oleh itu,ika masalah enggan ke sekolah ini berlanjutan, anda perlu cari jalan penyelesaiannya. Selepas anda kenal pasti apakah masalah atau punca anak-anak tak mahu ke sekolah, fikirkan cara untuk selesaikan masalah tersebut supaya anak anda tak lagi berdepan dengan masalah tekanan emosi setiap kali ingin ke sekolah. Jika mengantuk dan bangun awal menjadi punca, ambil langkah dengan pastikan mereka cukup tidur selama 10-13 jam (3-5 tahun) atau 9-11 jam (6-12 tahun) sehari.  
Jika mereka memberitahu bahawa mereka dibuli di sekolah atau tak ada kawan, ambil pendekatan dengan berdepan dengan guru sekolah mereka. Sebagai ibu bapa, anda tak nampak apa sebenarnya yang berlaku di sekolah. Jadi, dengan berjumpa dan berbincang secara dekat dengan guru mereka, anda akan lebih tahu bagaimana peribadi dan pergaulan anak anda dengan orang lain.
Good luck parents!
Ditulis Oleh:
Siti Khairun Nisa'