Not Sure What to Do this Weekend? Let's Get Fit!
Parks have been one of the go-to places for families and individuals of all ages to relax and take a breather from the usual hectic city life.
While many countries around the world have their very own beautiful and iconic parks, we are no exception!
Our Klang Valley recreational parks are breathtaking and we are proud to say that our parks are as beautiful as the ones in New York, Tokyo and London! A lot of them are riveting and we have a hard time choosing the best of the best.
If you don't believe us, then we have narrowed down some of the best parks in the Klang Valley just for you and your children to enjoy and have a fun weekend!
Elmina Central Park, Shah Alam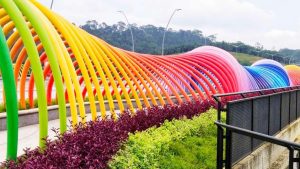 If you're planning to take pictures with your children, then this is the perfect place for your whole family!
Elmina Central Park provides jogging and cycling tracks open to the public. You can also use the fitness station as well as the playground. You and your children can enjoy the sky view, river promenade and pond plaza. 
At Elmina Iconic Bridge, your whole family can enjoy activities such as cycling and roller skating. You can even visit the park at night as the bridge gives an impressive night view which calls for a nice photo shoot at the area. And yes, Elmina Central Park is meant for you to jog and run and do a couple of exercises but hey, it's not wrong for you to take pictures there because the architectural design is so sleek that you'll have a hard time not to snap pictures and post them on your Instagram!
Address: Elmina Central Park, Elmina Valley, 40160 Shah Alam, Selangor
The Central Park, Desa Park City, Kepong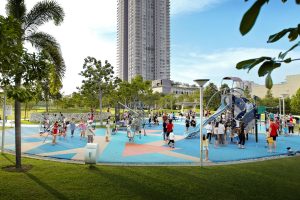 For those who have never gone to The Central Park at Desa Park City, you would think that it's a private residential park. But it's actually not! You can go to the park early in the morning to walk or run. 
Encircled by a picturesque lake, your family will enjoy the beautiful scenery as you get to relax and have a picnic on its manicured lawns. If you prefer to get your heart pumping running along the jogging trail, then by all means!
And if you have a cat or dog, then this park will be your favorite! Why? Because it's a pet-friendly park! Bring yours anytime you want and your pet will also have a wonderful time meeting new friends! 
Address: The Central Park at Desa Park City, C-3-1 Plaza Arkadia, 3, Persiaran Residen, Desa Park City, 52200 Kuala Lumpur.
KLCC Park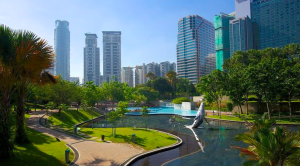 Yesssssss, this is one of the most iconic and popular parks in Malaysia! But when was the last time you visited this park? Just recently? Two months ago? Or a couple of years ago?
Well, if you haven't visited this beautiful park, then I guess it's time for you to do so with your children!
The main attraction here is the 10,000 sq ft man-made Lake Symphony with a 43 meters bridge across it! Your children will be excited looking at the fountains. 
You can also enjoy the lush greenery while strolling around the area. It also features a 1.3 kilometers jogging track and two acres of children's playground. The best thing is, the jogging track is covered with EPDM, a special flooring that increases the grip of your soles to ensure that you and your children have a comfortable run. 
Address: KLCC Park, 50088 Kuala Lumpur.
Bukit Kiara Park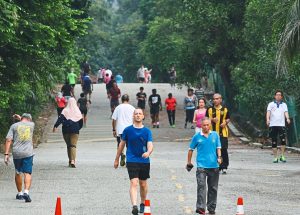 Did you know in the heart of a vast and densely populated residential area of Taman Tun Dr. Ismail (TTDI), there is a great recreational park called Bukit Kiara Park?
This park features a large lake surrounded by exercise stations, jogging tracks and picnic areas for your whole family. Your children will also enjoy the playground as they can also make friends with other children. 
It is also surrounded by nature that is home to many wild plants and animals. Bukit Kiara Park offers you a challenge to hike along its trail that would take you up to 250 meters above ground level. It's tiring but it's worth it as the view at the top is astounding!
If your children are really interested in hiking and want to experience an adventure, then Bukit Kiara Park is the park to go to this weekend!  
Address: Bukit Kiara Park, Taman Tun Dr. Ismail, 60000 Kuala Lumpur.
Have you ever been to all of these parks? If you haven't, then it's time to complete the list and enjoy the sunlight with your children!
Written by:
Ian Firdaus