'Cuba Jadi Macam Kakak Kamu!' – Ini Boleh Menimbulkan Pergaduhan Antara Adik-Beradik
Saat kita melahirkan cahaya mata yang pertama, kita tahu kita akan mulakan hidup yang baharu, hidup yang lebih sempurna. Tetapi kita juga tahu yang menjaga anak ini bukanlah perkara yang mudah. Setiap mak dan ayah mahukan yang terbaik buat anaknya dan sudah menjadi lumrah untuk mak ayah menjaga anak bagaikan menatang minyak yang penuh. 
Apabila kita melahirkan anak yang kedua ataupun ketiga, kita berasa seperti kita lebih bersedia sebagai seorang parent. Ye la, menjaga anak pertama itu seperti reference buat kita, dengan harapan kita akan menjaga adik kepada anak sulung ini dengan lebih expert. 
Tetapi dengan adanya anak kedua dan ketiga, kita sedar ianya amat berbeza sama sekali. Ya, basic rules of parenting masih kekal sama tetapi ada banyak perkara yang mak ayah tidak tempuhi semasa menjaga seorang anak. Mempunyai anak kedua dan ketiga memerlukan lebih masa, tenaga dan juga fokus. Apabila anak sulung kini mempunyai adik beradik, akan ada perkara-perkara yang akan wujud atau timbul yang tidak ada sekiranya menjaga satu orang anak.
Jadi, kita nak berikan tips dan rules untuk mak ayah yang sedang expecting a second child or mak ayah yang ada lebih daripada satu orang anak. Jom!
JANGAN Buat Perkara Ini!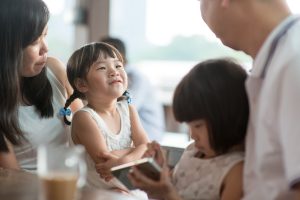 Semasa kita mempunyai seorang anak, kita selalu bagaikan menatang minyak yang penuh kepada anak kita. Akan tetapi, apabila kita mempunyai lebih daripada seorang anak, minda kita akan lebih cenderung untuk membuat perbandingan anak-anak kita sendiri. 
Kenapa tak boleh? Sebab perkara ini akan affect emosi anak-anak terutamanya sekiranya kita cakap depan mereka. Dengan adanya perbandingan, ianya akan menjadi sebuah environment yang kurang sihat bagi satu keluarga. Biarpun sekiranya anak anda masih tidak faham penuh dengan apa yang diperkatakan, tetapi perkara ini kemungkinan akan menjadi habit yang berpanjangan. Walaupun mempunyai persamaan genetik, tetapi anak-anak ada personaliti dan milestones yang berbeza. 
Contoh dialog; 'Cuba jadi macam kakak awak tu, rajin, pandai berdikari dan suka berjimat cermat. Awak pula Fazura, selalu beli barang yang tak sepatutnya, lepas tu suka sangat tidur lambat.' Sudah terang lagi bersuluh, ini dikira sebagai perbandingan.
Tetapi bagaimana pula sekiranya dikatakan sebegini?
'Cuba jadi macam kakak awak tu, rajin, pandai berdikari dan suka berjimat cermat.' Full stop. Adakah ini dikira sebagai comparing? Ya, masih dikira sebagai comparing walaupun ianya secara sedikit halus.
Adalah yang terbaik sekiranya mak ayah menasihati anak tanpa membuat perbandingan. Berkata dan memberi pendapat dengan elok tanpa melibatkan orang lain. Ini juga dapat elakkan pergaduhan atau perasaan cemburu mereka dengan adik-beradik yang lain. 
Seimbang Adalah Yang Terbaik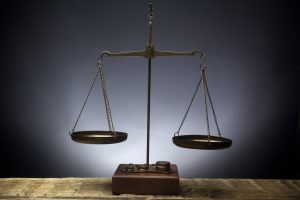 Sewaktu mempunyai seorang anak, memang dengan si kecil itu sahajalah yang kita akan meluangkan masa bersama. Tetapi apabila sudah tiba masanya anak kedua, ketiga dan seterusnya dilahirkan, masa adalah lebih sukar untuk kita bahagikan. Walaupun begitu, time management merupakan skill yang setiap mak ayah perlu belajar. Bila sebut tentang time management, bukan sahaja bermaksud masa sewaktu bekerja, tetapi juga bila bersama dengan anak-anak. 
Mak ayah pernah terdengar atau terbaca tak ada segelintir yang lebih pentingkan anak-anak yang kecil berbanding dengan anak sulung? Perhatian yang diberikan kepada anak kecil lebih berbanding dengan anak sulung. Sudah tentu perkara ini akan affect anak yang pertama lebih-lebih lagi apabila mak ayah sudah terbiasa menumpukan perhatian kepada mereka sebelum anak kedua dilahirkan. Sekiranya mak ayah tidak seimbang dalam membahagikan masa, there are chances yang anak sulung akan merindui momen-momen dahulu dan sifat cemburu dan ego mungkin akan timbul.
Untuk menyeimbangkan masa, cara paling senang adalah sekiranya mak ayah dan kesemua anak-anak berjalan bersama sama and spend time with each other. Sekiranya anak sulung boleh pilih satu mainan untuk dibeli, begitu juga dengan anak-anak yang lain. Sekiranya anak kedua boleh decide apa yang ingin dibuat, begitu juga dengan anak sulung. Yang penting, tidak kiralah berapa anak yang mak ayah ada, perlulah menjaga mereka dengan fair and square.
Tetapi Ada Pengecualian…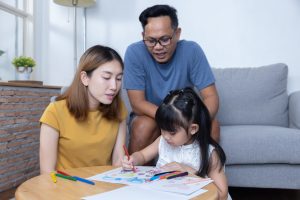 YES, ada pengecualian. Jadi, persoalannya, apa yang boleh dikecualikan? 
Mak ayah kena tahu ada masa yang satu anak memerlukan lebih attention daripada anak yang lain. Haaaa, macam mana tu?
Ianya bergantung kepada situasi anak-anak tersebut. Misalnya, anak ketiga jatuh sakit. Sudah semestinya mak ayah wajar memberi perhatian yang ekstra berbanding anak yang lain. Ini kerana faktor kesihatan yang penting dan juga anak memerlukan dorongan semangat daripada mak ayahnya sendiri.
Sama juga seperti sekiranya anak sulung ada homework yang banyak. Mereka memerlukan bantuan daripada mak ayah mereka untuk  menyiapkan kerja sekolah jadi kemungkinan mereka perlukan perhatian yang lebih untuk hari tersebut.
Perkara yang paling penting ialah memberitahu anak-anak yang lain supaya mereka memahami situasi ini lebih-lebih lagi sekiranya mereka ingin bermain bersama dengan mak ayah. Cari sedikit masa untuk terangkan kepada mereka dan ajar mereka untuk sesuaikan diri untuk masa-masa seperti ini. 
Beritahu mereka bahawa akan ada masa yang mereka juga perlukan perhatian yang ekstra untuk perkara-perkara yang tertentu. Mak ayah boleh bagitahu anak yang mereka akan dapat masa ekstra mereka nanti, bila tiba masa yang sesuai. 
Ini Bukan Squid Game!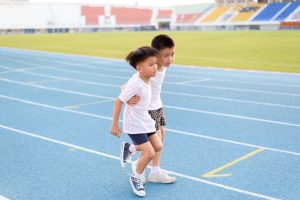 Kalau tadi kita mentioned about perbandingan, sekarang ni ada satu lagi elemen yang berkait rapat dengan perbandingan iaitu pertandingan. 
Ada sesetengah mak ayah yang sudah terbiasa menjadikan banyak aktiviti sebagai satu pertandingan, tidak kira sama ada pertandingan itu mempunyai ganjaran ataupun tidak. 
Tidak dinafikan yang pertandingan boleh menjadi suatu perkara yang sihat. Akan tetapi, pertandingan bersama adik beradik tidak patut dijadikan satu benda yang kerap dibuat. 
Contohnya; 'Siapa yang makan semua sayur dulu, dia dapat makan ais krim malam ni,' 'Siapa yang menang 100 meter, dia dapat menang hadiah,' atau 'Siapa yang boleh kemaskan bilik dengan paling cepat, dialah pemenang'.
Tanpa pengetahuan kita, kita akan menjadi penyumbang kepada perspektif dimana anak-anak akan nampak adik-beradik mereka seperti competitors. Dan sudah menjadi kebiasaan apabila adanya competitors, kita akan anggap mereka sebagai orang yang perlu kita kalahkan. Daripada situ, kemungkinan akan timbulnya pergaduhan ataupun sifat cemburu dalam hati sekiranya nampak adik beradik yang lain lebih berjaya daripada si dia. Ini juga mungkin akan menjadi faktor timbulnya 'Sibling Rivalry'.
Biasalah, akan menjadi lumrah bagi kanak-kanak untuk jadikan sesuatu perkara itu sebagai competition tetapi sewajarnya hanya dibuat secara minimum dan yang terbaik adalah competition itu hanya untuk bersuka ria sahaja tanpa ada apa-apa ganjaran bagi pemenang. 
Daripada menjadikan sesuatu perkara sebagai perbandingan dan pertandingan, lebih bagus sekiranya mereka bekerjasama dalam perkara tersebut. 
Ditulis oleh:
Ian Firdaus
Rujukan:
https://www.parentclub.scot/articles/managing-multiple-children
https://www.nct.org.uk/life-parent/parenting-more-one-child/top-tips-for-parents-two-children-under-two
https://www.fatherly.com/parenting/parenting-two-kids-expert-advice
https://www.beingtheparent.com/10-golden-rules-for-parents-who-have-more-than-one-child/