WOW, MURAHNYA! Jom Bawa Anak Anda ke Taman-Taman Tema Air Bawah RM 50!
Tak lengkap musim cuti sekolah ni kalau anak-anak tak ke taman tema air. Bila dah kembali ke sekolah, mesti mereka akan berkongsi keseronokan bersama rakan-rakan. Sebagai ibu bapa, anda mesti mahu tunaikan impian anak-anak walaupun terpaksa mengeluarkan kos untuk memberikan keseronokan buat mereka. Bila buka saja laman web untuk semak harga, anda mesti mula berkata dalam hati  "Alamak, mahalnya!" 
Tak perlu risau! Anda tahu tak, terdapat banyak taman tema air di Malaysia yang menawarkan harga yang sangat berpatutan? Lebih tepat lagi, bawah RM 50! Bukan saja berpatutan, malah terdapat banyak permainan dan tarikan menarik yang boleh anak-anak nikmati di sana. Anda pun boleh turut serta menikmati keseronokan bermain air bersama anak-anak.
Jom lihat butiran di bawah dan rancang bersama anak-anak anda ke mana destinasi pilihan mereka!
Big Bucket Splash, Gamuda Gardens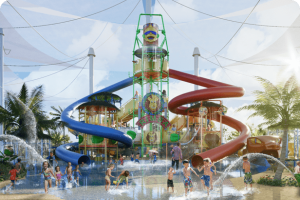 Jika anda menetap di Selangor, jom bawa anak anda ke Big Bucket Splash yang terdapat Gamuda Gardens, Rawang, Selangor. Apa yang menariknya di sini, taman tema air ini sebenarnya dibuka kepada penduduk yang menetap di kawasan perumahan Gamuda Gardens. Namun, mereka turut membuka kepada umum dengan harga yang sangat berpatutan. 
Taman tema ini sesuai untuk dikunjungi untuk anda yang mempunyai ramai anak kecil kerana Big Bucket Splash  merupakan taman tema yang mesra kanak-kanak. Selepas puas bermandi-manda, anda bolehlah membawa anak-anak ke beberapa tempat menarik yang terdapat berdekatan Big Bucket Splash. 
Lokasi: Gamuda Gardens Experience Gallery, Persiaran Gamuda Gardens 1, Bandar Gamuda Gardens, 48050, Kuang, Selangor.
Harga: 
Dewasa – RM10
Kanak-kanak –  RM36
Waktu Operasi: 
Sesi 1 : 10 pagi – 1 tengah hari
Sesi 2 : 2 petang – 5 petang
TUTUP : Selasa
*Terdapat 2 sesi. Setiap sesi hanya limit kepada 100 orang sahaja.
Melaka Wonderland, Melaka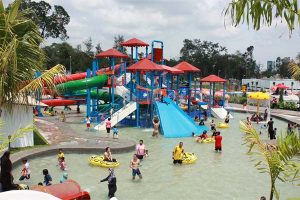 Jika anda dan keluarga merancang untuk bercuti ke Bandaraya Bersejarah ini, jangan lepaskan peluang untuk membawa anak-anak anda Melaka Wonderland ini! Terletak berhadapan Zoo Melaka dan dikelilingi hutan semula jadi yang bekeluasan 360 hektar, anda dapat menghirup udara segar sambil berseronok dengan pelbagai tarikan yang ada di sini.Antara tarikan yang terdapat di dalam taman tema air ini iaitu Tornado Chaser (pertama di Malaysia), Adventure Island, Kamikaze Racer dan 1 Big Wave Pool. 
Selain taman tema air, terdapat juga taman tema lain seperti Taman Ekstrem, Taman Dinasour dan banyak lagi. Untuk warga dewasa, anda juga tidak ketinggalan untuk sama-sama nikmati keseronokan dengan melakukan pelbagai aktiviti seperti paintball, go-kart dan memancing ikan.
Lokasi: Taman Tema Melaka Wonderland Resort, Lot 17178, Lebuh Ayer Keroh, Hang Tuah Jaya, 75450 Ayer Keroh, Melaka
Harga:
Selasa – Jumaat:
Dewasa RM37.90
Kanak-kanak RM30.80
Warga Emas atau OKU RM23.70
Hujung Minggu:
Dewasa RM42.65
Kanak-kanak RM36.75
Warga Emas atau OKU RM23.70
Waktu Operasi:
Selasa – Jumaat : 11.00 pagi– 7.00 malam
Sabtu & Ahad, Cuti Umum, Cuti Sekolah: 9.00 pagi – 7.00 malam
Wetworld Air Panas Pedas, Negeri Sembilan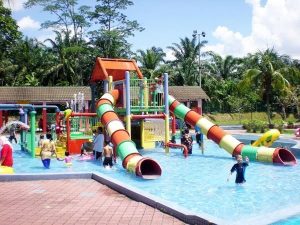 Nak melawat taman tema air yang lain daripada yang lain? Bukan sahaja unik, malah menyihatkan pula tu! Mana lagi kalau bukan di Wet World Air Panas Pedas Resort.
Jika anda tak tahu, air panas semula jadi ini kaya dengan pelbagai jenis khasiat mineral yang memiliki kemampuan menyembuhkan atau melegakan pelbagai penyakit seperti lenguh badan, arthritis, sakit sendi dan pelbagai jenis penyakit kulit.
Tapi yang bestnya, anda boleh berseronok sambil menikmati khasiat air ini dengan gelongsor, taman permainan di tengah air hinggalah ke kolam renang yang luas. Pasti anda dan anak-anak menikmatinya dengan sangat puas.
Lokasi: Lot 603, Jln Tampin, Mukim Pedas, Kampung Sungai Batu, 71400 Pedas, Negeri Sembilan
Harga:
Dewasa: RM15
Kanak-kanak: RM12
*Kanak-kanak bawah 90 cm percuma
Waktu Operasi:
Isnin – Jumaat Kecuali Rabu :10.00 pagi – 6.00 petang
Sabtu & Ahad, Cuti Umum, Cuti Sekolah: 10.00 pagi – 6.00 petang
Rabu: Tutup
Fantasia Aquapark Jitra, Kedah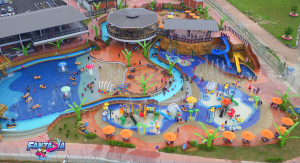 On the way ke Utara? Apa kata, singgah dulu ke taman tema air Fantasia Aquapark yang terletak di Jitra, Kedah. Haa, mungkin ramai yang tak tahu yang di Jitra, Kedah pun terdapat taman tema air yang sangat menarik untuk anda kunjungi bersama anak-anak.  
Anak-anak anda pasti teruja melihat kecomelan taman tema ini yang berkonsepkan magika dan pelbagai dunia berbeza yang dipenuhi dengan serangga berwarna-warni. 
Taman tema air yang berkeluasan 15,000 kaki persegi ini menempatkan 12 tarikan air yang mesti dicuba seperti Twin Slide, Lazy River, Water Cave, Children Splash Pads, Children Water Factory dan banyak lagi. Selepas puas bermandi-manda, anda boleh lah teruskan pencarian Nasi Kandar Kedah pula kan? 
Lokasi: Jalan Golf & Country Club 06000 Darul Aman, 06000 Jitra, Kedah
Harga:
Dewasa: RM18
Kanak-kanak: RM15
Waktu Operasi:
Isnin – Khamis Kecuali Selasa:1.00 tengah hari – 8.00 malam
Jumaat, Sabtu & Ahad: 10.00 pagi – 8.00malam
Selasa: Tutup
Gambang Waterpark, Pahang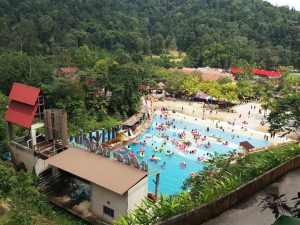 Jika anda merancang untuk bercuti ke Kuantan atau dalam perjalanan ke Pantai Timur, anda boleh berehat sebentar dengan menikmati keseronokan taman tema air yang terletak di Gambang, Pahang ini. Bukit Gambang Water Park merupakan taman tema air yang terletak di dalam alam semula jadi hutan tropika yang berkeluasan 45.8 ekar. 
Di sinilah anda dapat menikmati tarikan permainan air antara yang terpanjang, tertinggi dan terbesar di Malaysia.
Antara tarikan yang terdapat di sini adalah Canopy Slide, Family Raft Ride, Crystal Slide, 6 Lanes Racer, Aqua Play, Journey of Ice, Penguin Express dan banyak lagi. Selain itu, terdapat juga resort untuk anda menginap serta safari untuk dilawati oleh anda sekeluarga.
Lokasi: Bukit Gambang Resort City, 26300 Gambang, Pahang
Harga:
Dewasa: RM28
Kanak-kanak: RM18
Waktu Operasi:
Rabu-Jumaat: 11.00 pagi-6.00 petang
Sabtu-Ahad, Cuti Sekolah, Cuti Umum: 10.00 pagi- 6.00 petang
Dalam meraikan keseronokan bersama yang tersayang, pastikan keselamatan anak-anak anda sentiasa terjaga dan pantau mereka ketika di dalam air untuk mengelakkan perkara-perkara yang tidak diingini terjadi. Stay safe dan selamat bercuti! 🙂
Ditulis Oleh:
Siti Khairun Nisa'