Romantic & Unique Restaurants in KL for Your Date Night
After having a long day at work, doing chores and dealing with kids, you might want to have alone time with your spouse right? Then, you should go on a date with your spouse! Let us suggest a DATE NIGHT where there will be lesser interference of phone calls or messages.  It doesn't matter what the occasion is or if you don't have anything to celebrate, you both DON'T need an excuse to bring back the spark in your relationship.
According to the National Marriage Project by the University of Virginia study, date nights can improve marriages. The study showed improvements for married couples who date frequently in categories such as happiness, commitment, communication, parenting stability and community integration. It also showed that married couples who spend quality time together  at least once a week have a lower divorce rate and increase the perceived quality of their marriage. With that, it's time to date your spouse more!
I'm sure one reason you don't initiate or plan a date night is because you are out of ideas of where to go, or it might be as simple as ' I have no time to Google the places'. If you are looking for  places in KL, look no further! Kuala Lumpur is not only the capital city of Malaysia, it is also home to a number of romantic and unique restaurants, which makes it the perfect place for a date with your spouse. Whether you are looking for a place to have a candlelight dinner, watch the sunset or stargaze, there are many options for you to choose from.
Here are 5 romantic and unique restaurants in Kuala Lumpur that you can visit with your spouse!
Dinner In the Sky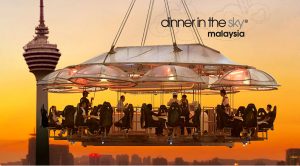 A one-of-a-kind eating idea in which you and the dining table are secured to your chairs and lifted high into the air by a crane while a breathtaking panorama of the city comes into view. 
It is still suggested even if you have acrophobia, it is still recommended because you will be securely fastened to your seat. All meals supplied have been professionally crafted by a top-rated chef in KL and should (hopefully) make you forget about your fears.
Location: 231, Bukit Bintang St, Kuala Lumpur, 55100 Kuala Lumpur, Federal Territory of Kuala Lumpur
Operation hours:  5 pm-11.30 pm
Subak Restaurant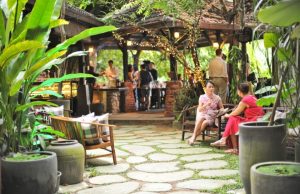 Indulge in a romantic dinner surrounded by beautiful greenery. Subak Restaurant, located in Bukit Lanjan, is well-known for its romantic evenings. Serving some Western favourites like steak and pasta, as well as exquisite Asian cuisine like their signature dish, Lamb Shank Masala.
If you are planning a special event, you may have your table covered with flowers to create the perfect romantic ambiance
Location: Lot 3213, Jalan Penchala Indah, Bukit Lanjan, 60000 Kuala Lumpur
Operation hours: 5.45 pm-11 pm
Atmosphere 360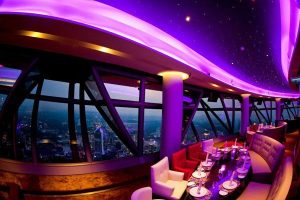 Atmosphere 360 is a modern and elegant revolving restaurant situated 282m above ground level and located at the tallest tower in Southeast Asia – Menara Kuala Lumpur.
The phenomenal view and starry fiber optic ceiling lights give this restaurant a spaceship-like atmosphere that makes it a truly unforgettable and luxurious date night experience.
They open daily for lunch and dinner with wide selections of buffet meals, à la carte and cocktails.
*Food ingredients are from halal-certified suppliers. Please note that there are alcoholic beverages available on the menu.
Location: TH02, Menara Kuala Lumpur, 2, Jalan Puncak, 50250 Kuala Lumpur
Operation hours: 12 pm-10 pm
Flora Terrace at Hampshire Place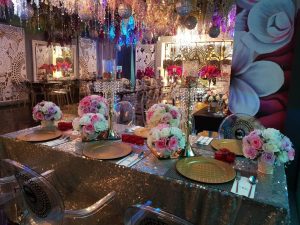 Flora Terrace, located in the posh Hampshire Place, takes you to a magical world. With florals and sparkly lights hanging from the ceiling, this is the ideal romantic date spot for a special event or for preparing a surprise for your loved ones.
Their menu options range from traditional Malaysian dishes like Laksa Johor to popular Western dishes like Honey Glazed Salmon or Grilled Lamb Chop. Take the chance to try their dessert selections such as Creme Caramel and Chocolate Fondant, to round out your romantic dining experience.
Location: 157, Persiaran Hampshire, Hampshire Park, 50450 Kuala Lumpur
Operation hours: 12 pm- 11 pm
THIRTY8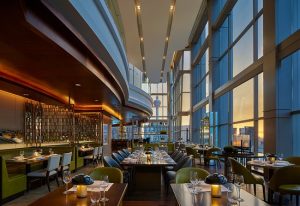 The night view of Kuala Lumpur is unlike any other, which is why THIRTY8, located on the 38th level of the Grand Hyatt hotel, should be on your list for a romantic dinner. You may treat yourself to a beautiful romantic meal or afternoon tea at one of Kuala Lumpur's greatest hotels, which has a fantastic view of the Twin Towers.
The restaurant will provide you with a 360-degree perspective of the city, making your night memorable. A range of cuisines with Western, Chinese, and Japanese dishes are available. You may also come here for breakfast for two while seeing Kuala Lumpur's beautiful blue sky.
*Food ingredients are from halal-certified suppliers. Please note that there are alcoholic beverages available on the menu.
Location: 38th floor, Grand Hyatt Kuala Lumpur, 12, Jalan Pinang, 50450 Kuala Lumpur
Operation hours: 7 am-11 pm
Enjoy your date!
Written by:
Siti Khairun Nisa'