THERE'S A NEW SUPERHERO IN TOWN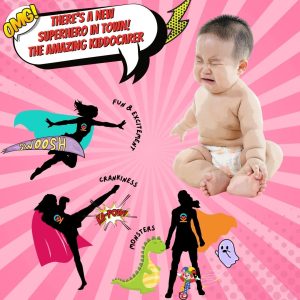 There's a new superhero in town- move over Wonder Woman!
With the power to make children smile
With the power to ease parents' worries
With the power to keep children safe
With the power to adapt to different families
Our Kiddocarers, the Super Carer!
In a world where parents struggle to balance work, lifestyle and childcare, our Kiddocarers are here to the rescue! Armed with their power of knowledge, experience, adaptability and compassion, these mighty heroes bring peace of mind to families everywhere. They are the superheroes in this story – helping to save the world, one child and one family at a time.
Here is their origin story…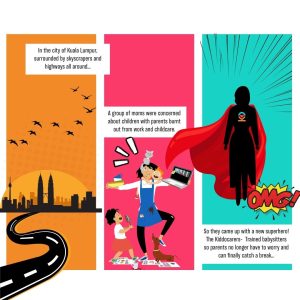 Not so long ago, in the big city of Kuala Lumpur, Malaysia nestled in the heart of skyscrapers and highways all around, there lived a group of working moms who were deeply concerned about the welfare of the community's children. They were parents themselves, and they understood the joys and oh the many, many challenges of raising children (certainly not a walk in the park!)
One day, as they gathered to discuss their concerns, they realized that many families were also struggling to balance the demands of work and parenting, and their individual lifestyles. They saw parents who were exhausted and burnt-out from juggling multiple responsibilities, and their children were left alone or in the care of strangers.
Feeling a deep sense of responsibility towards the community, they decided to take action. They pooled their resources, gathered their knowledge and experiences, and started a tech platform, where parents could connect with babysitters, to take care of their children in a safe and nurturing environment while they went to work, and take some time off, to just be themselves as individuals.
Kiddocare, as the platform came to be known, knew that their babysitters, fondly called as Kiddocarers, had to be protected and equipped with as much knowledge before they could start taking care of children. It's just like any superhero before embarking on their journey to saving lives,saving the world! They wanted the community to respect Kiddocarers as someone who is professionally trained to take care of children, and acknowledge that they are not maids, but instead, trained, professional babysitters who carries their responsibility as their chosen profession.  And so, they prepared the Kiddocarers with various training sessions with industry experts on how to manage children's tantrums, understand that each child is different in their own ways, and how to play with children to stimulate growth.
Then, with a swift and confident stride, the Kiddocarers enter each home, transforming it into a safe and nurturing environment and space for children. They possess incredible skills in child development and behavior, and are able to tailor their care to meet the unique needs of each child.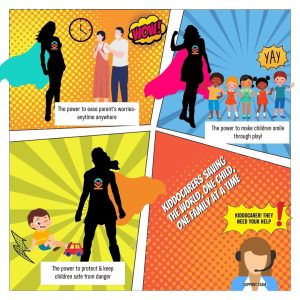 But that's not all! With their exceptional organizational and time management skills, the Kiddocarers are able to care for multiple children in different homes, all while supporting parents and ensuring that each child receives the best possible care, keeping them safe and entertained through play.
Knowing that sometimes even heroes need help, each Kiddocarer is also supported with her own sidekicks, the Support Team members who are on standby 24/7 to always ensure the Kiddocarers are safe at all times! Whenever they feel they are in situations that require assistance, the Support Team would swoop in and save the Kiddocarers by removing them from the situation ASAP. No chances are spared when it comes to keeping the Kiddocarers safe!
 And now…
The efforts of the Kiddocarers did not go unnoticed. The community began to recognize them as superheroes who work tirelessly to save moms, dads and kids. Suffice to say, the people were amazed by the kindness and selflessness of the Kiddocarers, who were always ready to lend a helping hand.
Over time, the presence and impact of the Kiddocarers spread far and wide as their parent organization, Kiddocare, expanded their services to other towns and cities. They became a beacon of hope for families everywhere that struggle to balance work, lifestyle and parenting.
Today, the Kiddocarers continue their mission, driven by their deep commitment to the community's children and families. So that's the heroic story of the Kiddocarers, who help to save the world, one child and one family at a time.
Written by:
Sabrina Fauzan