Our Children are Not Vaccinated, Should We Send Them Back to School?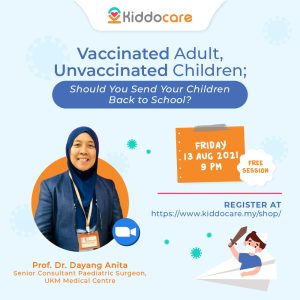 The Malaysian government has recently announced that schools will reopen in stages starting September 1st. On one hand our children have lost precious schooling time where they can interact with teachers and friends and learn their soft skills, but on the other hand we have had 5-digits recorded in our daily new Covid-19 cases tally which is worrying, to say the least. Especially with the Delta variant being more infectious and deadly, are you worried about your children's safety when they go back to school? How do you keep them safe from Covid-19?
Whatever your decision is – let your children return to school, or continue staying home, the current circumstances have left parents wondering how they can best continue to ensure their children stay protected against the virus and what to do if their children become ill. Because children are not eligible for vaccinations and their immune system is still developing, how can they stay protected from the virus?
In this session, featuring Prof. Dr. Dayang Anita who is a Senior Consultant Paediatric Surgeon at UKM Medical Centre, parents will learn how to minimise our children's exposure to Covid-19 and how we can help them strengthen their immune system. Let us take this chance to learn how we can ensure our little ones stay protected against Covid-19!
Upon completion of the session, parents will:
1. Learn preventive and protective measures to protect their children from Covid-19.
2. Learn ways to help their children build a better immune system.
3. Learn the best practices on what to do if their children become ill.
4. Receive a special DISCOUNT code for Kiddocare's babysitting service.
Who is this for?
This session is for adults with schoolgoing children in their care.
Registration is FREE and slots are LIMITED, so be sure to book a spot!
Book Your Slot Now
Date
Friday, 13th August 2021
Location
Online via Zoom Meeting
About Prof. Dr. Dayang Anita
Professor Dr. Dayang Anita Abdul Aziz is presently the Director of Tun Fatimah Hashim Women's Leadership Centre at Universiti Kebangsaan Malaysia (UKM) Bangi. A Paediatric Surgeon by profession, Dr Dayang has many remarkable achievements throughout her academic career with significant leadership roles.
She is the first woman Professor in Paediatric Surgery in Malaysia and at UKM and also the first woman to lead Paediatric Surgery services in an academic institution in Malaysia; she was Head of Paediatric Surgery at Faculty of Medicine UKM from 2011 till 2019.