Holiday Playdate (Age 2 and above)
What's Inside The Toddler Box  Playkit:-
Set 1: Sensory Bottles : Stimulate those senses!
View more: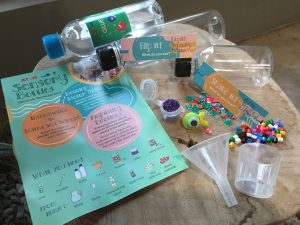 A purposeful sensory bottle can help rapidly accelerate your child's development.
Simple as they may seem, they can help develop motor skills, regulate emotions and introduce your child to Mathematics and Science!
This set includes materials and instructions to make 2 simple sensory bottles of your own.
Instructions
Bottles
Glue
Dropper
Funnel
Hama Beads
Glitter
Sequins
Set 2: Where Are the Fireflies?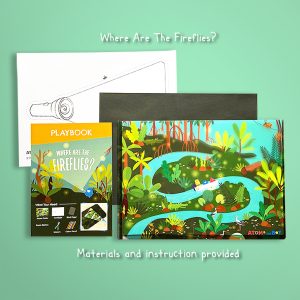 This simple seek and find activity raises awareness on the reasons for the disappearing Fireflies.
The kids can search for fireflies with their Firefly-friendly paper torchlight. The beautiful Firefly folders are also reusable now that you're back in school.
This activity kit comes with:
A Playbook with illustrated step-by-step instructions for the activity
The Playbook includes information to raise awareness on why Fireflies are disappearing
Materials for the activity including a Firefly folder and paper torchlight
Set 3: Light Up The City Story & Activity Book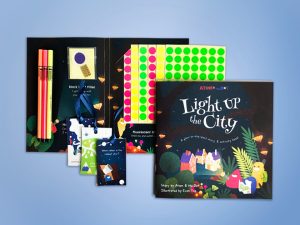 Light Up The City is a story book with a twist! Filled with mystery and intrigue. Also comes with materials and activities to make your book glow-in-the-dark.
Each set includes:
Light Up The City Story & Activity Book
Neon Colours
Fluorescent Stickers
Black Light Filter
Terms & Conditions:
1. This package is only valid for one 4-hour session and maximum of three (3) children (above age of 4).
2. This package includes three (3) sets of playkits
3. The babysitter will prepare a full itinerary of activities before the service utilising the playkits included. Other activities may be introduced accordingly.
4. Booking for this package must be made through the website only. Payment must be made up-front and in full once the carer has been assigned. Service is considered confirmed once the payment is made.
5. Should the session be postponed, rescheduling penalty of RM25 will be imposed when booking is made for a new date
6. This package is designed to accommodate maximum of 3 children above the age of 4 years old. Clients are encouraged to ensure that the the children involved are of appropriate ages, as the materials could pose danger to children below 4.
7. No refund or arrangement of separate session will be entertained should the number of children become less during day of service.
8. Should there be a postponement, this package can only be extended for a maximum of 60-days from the date of purchase. Beyond that, the service is considered expired, no refunds will be provided.
9. Session can be extended to more than 4 hours, but extension charges will apply.
10. 7% platform fee will imposed on the session when you confirm your booking.
11. Other terms and conditions, as well as surcharges including but not limited to Public Holiday and Travel Allowance may still apply.
12. These terms and conditions may be subject to change without prior notice.
13. By purchasing this package, you hereby agree to abide by the terms and conditions of the package, as well as the terms and conditions of Kiddocare. Please refer to the website for details.
14. Once purchased, the service is confirmed and cannot be refunded. Should you want to postpone to a later date, please do so at least 24 hours before service is due. Rescheduling fee will be imposed accordingly.
15. Postponement cannot be made less than 24 hours before service is due to start, in this case, the session will be considered forfeited without refund or compensation
16. Should the carer cancels her service, and if a replacement is not available, client may postpone the service without rescheduling fee. Client may also request for a service refund. This refund will not include the kits or costs of the kits. Refund value will be as below:
i. Session for playdate for 2 kids: RM140
ii. Session for playdate for 3 kids: RM180
17. All bookings and services are subject to carer availability.