Since 2 sessions are provided, each play kit will be utilized for each session.
Your child will receive two play kits namely The Fickle Little Droplet & Behind the Scenes play kits:-
The Fickle Little Droplet Play Kit:-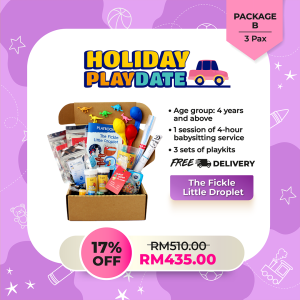 Did you know that 70% of the Earth's surface is covered with water? The human body also contains up to 60% water!
Water truly makes the world go round. Learn all about this liquid from the water cycle,  find out if salt can make ice melt faster by hatching dinosaur eggs, make homemade ice-cream, and your own super clean water! Water is all around you in many shapes and forms. But what makes water change its shape? Find out in The Fickle Little Droplet!
You'll receive a booklet introducing the water cycle and distillation. This play kit comes with kid-friendly instructions for the activities, as well as the materials and ingredients you need to complete each activity.
Behind The Scenes Play Kit:-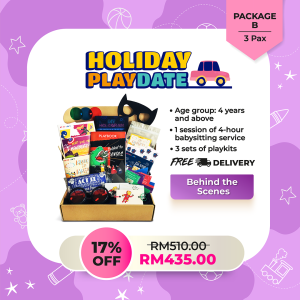 There's so much magic in film and cinema. It's time to learn how to recreate some of that magic.
Make your own 3D glasses, a super simple Ninja sticker flipbook and a HOLOGRAM. Popcorn included!
This play kit comes with:
Materials for 3 – 4 hands-on activities introducing the Science behind movie magic.
A Playbook with instructions and and trivia about animation and camera tricks.
You'll receive a Playbook introducing a few cool tricks filmmakers have been using for decades! There'll be instructions for the activities and you'll also get the materials and ingredients you need to complete each activity.
Terms & Conditions:
1. This package entitles you to 2 (two) sessions of 4-hr babysitting service.
2. This package includes one (1) set of playkit.
3. The babysitter will prepare a full itinerary of activities before the service utilising the play kits included. Other activities may be introduced accordingly.
4. Booking for this package must be made through the website only. Payment must be made up-front and in full once the carer has been assigned. Service is considered confirmed once the payment is made.
5. Should the session be postponed, rescheduling penalty of RM25 will be imposed when booking is made for a new date
6. This package is designed to accommodate 1 child above the age of 4 years old. Clients are encouraged to ensure that the the children involved are of appropriate ages, as the materials could pose danger to children below 4.
7. No refund or arrangement of separate session will be entertained should the number of children become less during day of service.
8. Should there be a postponement, this package can only be extended for a maximum of 60-days from the date of purchase. Beyond that, the service is considered expired, no refunds will be provided.
9. Session can be extended to more than 4 hours, but extension charges will apply.
10. 7% platform fee will imposed on the session when you confirm the booking.
11. Other terms and conditions, as well as surcharges including but not limited to Public Holiday and Travel Allowance may still apply.
12. These terms and conditions may be subject to change without prior notice.
13. By purchasing this package, you hereby agree to abide by the terms and conditions of the package, as well as the terms and conditions of Kiddocare. Please refer to the website for details.
14. Once purchased, the service is confirmed and cannot be refunded. Should you want to postpone to a later date, please do so at least 24 hours before service is due. Rescheduling fee will be imposed accordingly.
15. Postponement cannot be made less than 24 hours before service is due to start, in this case, the session will be considered forfeited without refund or compensation
16. Should the carer cancels her service, and if a replacement is not available, client may postpone the service without rescheduling fee. Client may also request for a service refund. This refund will not include the kits or costs of the kits. Refund value will be RM240
17. All bookings and services are subject to carer availability.